Manual therapies include soft tissue release, joint mobilization/manipulation and Functional Dry Needling (FDN), a physical therapy treatment using fine filament needles to release myofascial trigger points.  To learn more about FDN go to www.kinetacore.com.
Movement Re-education  such as  Pilates and the GYROTONIC EXPANSION SYSTEM® help patients regain normal movement patterns lost due to pain and disability.  This promotes the concept of "intelligent movement" which is the thoughtful process of movement self awareness in order to gain self awareness in life.
Scoliosis Physical Therapy Using the Schroth Method:  is a supplemental treatment to orthotic management of scoliosis to prevent progressive deformity in adolescents, and an effective curve-specific neuromuscular re-education for adults with scoliosis. Click here to for more information about the Schroth Technique.
Physical Therapists are healthcare professionals who diagnose and treat individuals of all ages who have medical problems or other health-related conditions, illnesses, or injuries that limit their abilities to move and perform functional activities in their daily lives.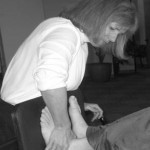 Management commonly includes specific exercises, manual therapy, education, manipulation and other interventions. We work with individuals to prevent the loss of mobility before it occurs by developing fitness and wellness-oriented programs for healthier and more active lifestyles.  The goal is to maintain and restore maximum movement and optimal functional ability throughout the lifespan.
A receipt/super bill can be provided for you to obtain out of network reimbursement
For Information Contact Us