Lise Stolze is a PMA certified Pilates Instructor and Educator for Polestar Education
Private Sessions Available:  contact Lise for cost and scheduling
The Pilates Method  is a system of exercise and physical movement designed by Joseph Pilates to stretch, strengthen, and balance the body.
With systematic practice of specific exercises coupled with focused breathing patterns, The Method has proven itself invaluable not only as a fitness endeavor, but also as an important adjunct to professional sports training and physical rehabilitation of all kinds.
For more about the history of Joseph Pilates click here.
Polestar Education is a worldwide provider of rehabilitation-based Pilates education, producing high-caliber teachers and successful studio models.  For information about Polestar click here.
Medically Based Pilates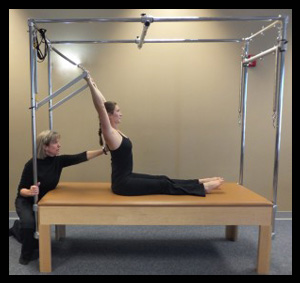 is prolific in physical therapy clinics, and doctors are  prescribing Pilates to their patients.  While research is scarce, there is a growing body of work that justifies its reimbursement by third party payers including Medicare.
Physical therapy patients benefit from the awareness The Method  brings to their movement and the empowerment it brings to their lives as they become more independent and  mindful about their bodies and the choices they make in their lifestyles.  Click Here for information about Lise's research on Pilates and Low Back Pain
PMA:  Founded in 2001, the Pilates Method Alliance is the professional association and certifying agency for Pilates teachers.  For the past decade,  teachers from around the world have worked together to create a unified community, to share knowledge and information, and most importantly, to establish the practice of teaching Pilates as a profession. To that end, in 2005 the PMA launched the only third-party professional certification exam in the Pilates industry.
Click Here for more information about the PMA.