Scoliosis Physical Therapy:  
The Schroth Method
PSSE
Lise Stolze is a certified scoliosis therapist through the Barcelona Schroth Institute and the Barcelona Scoliosis Physical Therapy School created by Dr. Manuel Rigo.  She is also certified through ISICO in the SEAS method.  Both the Schroth and SEAS methods are conservative treatments called Physiotherapy Scoliosis Specific Exercise (PSSE).  Read the Scoliosis Research Society Position Statement on PSSE.  Learn more about conservative guidelines for scoliosis care here.
PSSE is a 3 – dimensional treatment approach for scoliosis patients that includes "self correction" of scoliosis curves, and emphasizes decompression of the curve concavities.  The Schroth method focuses on chest wall expansion with targeted breathing and neuromuscular stabilization of the "corrected" posture. Ultimately integration of the "corrected" posture into daily life activities is the goal.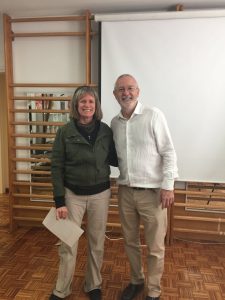 What To Expect
The initial evaluation includes assessment of full spine X-rays to determine curve classification based on the Rigo Classification System.  The physical assessment includes spirometry, musculoskeletal testing and scoliometer measurements.  Postural digital photographs will be taken for documenting progress and an overall determination of progression risk will be made.
Commitment to the program is imperative for success.  Sessions last 1-1.5 hours and are scheduled 2 x per week initially.  While up to 20 sessions may be recommended for adolescents, body awareness and the ability to integrate self corrections will ultimately determine the number of sessions required. For out of town patients, a 2 week intensive is recommended.
Adults with scoliosis, especially painful scoliosis should exercise caution with respect to duration and frequency to avoid exacerbation of symptoms. Recommendations are made based on the initial evaluation.
For More Information Or To Schedule An Appointment
Dr. Feldman Discusses the Schroth Method
New York Times:  Hope for an S-Shaped Back